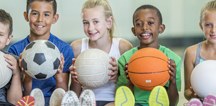 July 24 – 28, 2023 @ Ridgely Middle School
9:am – Noon
Sports of All Sorts-Fun & Competitive!
Basketball, Flag Football, Kickball, Wiffle Ball, Box soccer and Dodge Ball games will be played.
Focus will be on team play, sportsmanship, strategies, and with plenty of action.

Cost $185 per camper
$10 Sibling Discount/$10 Discount for Multiple Camps- Basketball/Flag Football/Team Sports
Print and Complete Registration Form:
Deposit $60:  Balance due one week prior to camp. Make checks payable to:  LTRC
*Send Deposit and completed form to Rod Norris:  116 Felton Rd. Lutherville, Md. 21093 —-  Registration may also be emailed to coachnisfun@verizon.net
*Please include your email address for updates on the registration form.
Print and Complete the Registration below:
For further information please contact Coach Rod Norris at  Coachnisfun@verizon.net