(Updated 11.10.2023)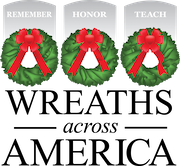 LTRC's Partnership with Wreaths Across America
This is our 3nd year of LTRC's partnership with Wreaths Across America at Dulaney Valley Memorial Gardens in Timonium.  The mission of Wreaths Across America is to remember and honor our veterans by placing a holiday wreath at the grave of every military veteran throughout the United States in December of each year.  Currently, wreath-laying ceremonies take place at over 3500 cemeteries nationwide.  This year's ceremony will take place on, Saturday, December 16th at noon.  The back story can be found at: 
Over 4000 veterans rest at Dulaney Valley Memorial Gardens.  This will be the 7th year that over 500 volunteers are expected to participate in honoring our veterans.  To volunteer, arrive at the cemetery before noon.  It is our goal, with our extensive LTRC family, both past and present, to sponsor at least 1000 wreaths this year at DVMG.  LTRC will receive a $5 rebate for every wreath purchased through our organization.  
I'm sure, like most people, that you have a family member or friend currently serving, or who has served, in this great nation's military.  We ask that you help us in remembering and honoring our veterans by making a donation to this worthy cause.
To sponsor a wreath, go to:  
On behalf of LTRC and Wreaths Across America thank you for your support.
Sincerely,
Bill Kalista
LTRC Treasurer
WAA Group Coordinator