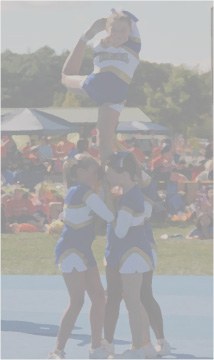 Exhibition: November 10th;  Location TBD
Invitational: September 29th;  Location TBD
Competition: November 3rd;  Location: Harford Community College
8U-12U practice before school starts:  Tuesday Wednesday and Thursdays 6-8 pm @ Seminary Park
After school starts: Tuesdays & Thursdays 6-8
Games: Fridays or Saturdays
13U before school starts: Mondays- Thursdays 6-8 pm @ Seminary Park
After School starts: Tuesdays-Thursdays 6-8 pm
Games: Fridays or Saturdays

******Practice times are scheduled to change as we get closer to competition*****
Most games will be at Seminary Park. We might need to travel to games depending upon the number of home games at Seminary Park. We must cheer a certain number of games to meet the requirements for Upper Chesapeake Cheerleading League.
Registration Fees:
Clinic (4u-6u): $75.00
8U-14U: $110.00
***There is a $90.00 uniform deposit that is due when uniforms are handed out that will be returned when uniforms are handed back in. They must be returned in the same condition that they were received****
Contact information:
6U (non-competitive): Beche Sprigg runbeche@gmail.com
8U-12U: Carol McGee Carolynn2222@comcast.net
13U-14U: Catie Farley ltrcknightscheer@outlook.com
Nicole Valor ltrcnicole@gmail.com
Contact coaches for age specific questions.
---
For questions, please email Catie Farley
---
Refund Policy
Refunds will be offered if one of the following apply:
Family emergency and unable to complete the season
Moving before the season starts
Refund: There will be a 50% fee applied.
If one of the above apply please email us at ltrcknightscheer@outlook.com to have your refund processed. We do pay competition fees (per cheerleader cost) and squad dues at the start of the season. We also use registration funds to start up the concession stand, trophy cost for end of year, and purchasing music.