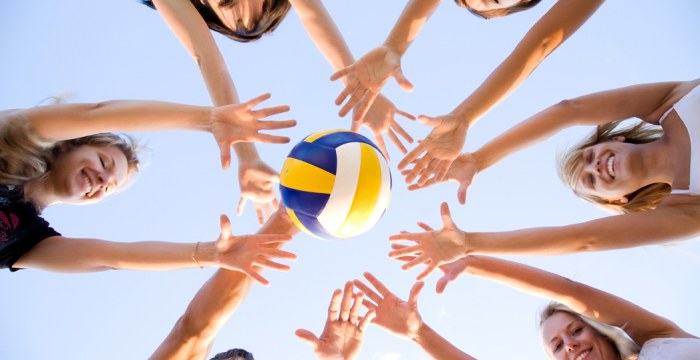 Year-round volleyball programs! All levels and ages (1st thru 12th grade) welcome!  For both boys and girls. 
LTRC Volleyball is a wonderful introduction to the game of volleyball.  We strive to make it a laid-back, fun and rewarding experience.  Kids will make friends, develop confidence, get some exercise and learn the basics of the game.  Level of play ranges from session to session, but we encourage all ages of beginners as well as experienced players to check it out.  You are never too old to learn the game, and you are never to good to play "just for fun"!  LTRC Volleyball is continuing to grow year after year, and most recently, has developed a Fall League, which provides a much needed alternative for teens who wish to continue to play the sport outside of school and club – for fun!  
SESSIONS OFFERED:
Winter:   Jan – March
Spring:    April – May
Summer: NEW! GRASS TOURNAMENT (adult, youth, and family).
Fall:         September – November
Spring Registration:  Opens in March, starts in April. 
DESCRIPTION OF SESSIONS:
Spring (registration opens March 1, begins mid-April): 
Spring clinics are 45min (elementary) and 1 hour (middle school/high school), on Mondays.  Usually between 5pm – 8:30pm at Ridgely Middle School gym. The first week of class will be an assessment day to determine level of play and experience.  A time will be emailed to you 2 weeks prior to the start of clinic and then your permanent class time will be set after assessments.  All levels are welcome!  This is not a stressful tryout. 

Spring Ridgely After-school:  Spring clinics and games will be held on various days after school on the grass near tennis courts.  Days TBD (depends on registrations).
Summer (early bird registration opens May 1):
Grass Tournament.  Details TBD.

A community event and fundraiser for Youth Rec Volleyball!! Volunteers

and ideas are welcome. Email me to be a part of the planning commitee!  Hoping to have several categories for all levels.  Even a family category!
Fall (registration opens August 1, begins September):
Fall elementary/middle school clinics: Ridgely Middle – outside on the grass (near tennis).  Usually Mondays/Wednesdays
Fall LTRC Teen Volleyball League: Sundays at Parisi Speed Training in Hunt Valley/ or Ridgely gym (subject to availability)
Fall Ridgely Volleyball Season:  See RMS tab for details. Each year this young program (3 years) is evolving.  Your feedback and suggestions are welcome.
Winter (registration opens December 1, begins January):
Wednesday clinic for elementary at Havenwood Presbyterian Church
Sunday (late afternoons) League for middle & high school on Racquetball courts at NERCC (off Perring Parkway).
Questions? Email Coach Jen: ltrcvolleyball@gmail.com
SESSIONS OFFERED:
Winter: Jan – March
Spring: April – May
Summer: possible grass Tournament!
Fall: September – November
Top Ten Things We Love about Volleyball:
Team Sport – Make awesome friends and learn to work together!
Non-Contact – A NET is between you and the opponent = fewer injuries & fights!
No long distance running – Enough said.
Lifetime sport – Family reunions, beach, parks, gyms, backyard!
Exciting! – Fast paced, lots of points, lots of whistling.
A no "ball-hogs" sport – Equal opportunity! Players may only touch the ball 1 time in a row, and strive to have 3 different touches at every opportunity.
Easy to practice independently – Just need a ball…a wall….and/or a friend!
Builds communication – "I GOT IT!" "MINE!" "HELP!" – Talking to your team is a MUST in the sport.
Valuable life-lessons – Perseverance, Selflessness, Staying positive, Overcoming failures, Sportsmanship, Goal oriented.
Slapping hands – Arguably the highest frequency of high-fives & hand-slapping in any sport amongst team-mates! What's not to love about that!?
 WHO IS COACH JEN: 
Hi!  I am a mom, a wife, a neighbor, a tennis player, an oboe player, a piano teacher, an accountant, a gardener, a doodler-wanna-be-artist, and a volleyball player and coach!  I grew up in West Philly, went to Davidson College in North Carolina, where I played D1 volleyball (but was recruited for playing the oboe)!   I believe sports should teach kids life-long skills of cooperation, staying positive, team-spirit and healthy exercise.  I believe every child should be given the opportunity to enjoy playing a team sport, no matter how tall, fast, loud or competitive you are!  Thank you to all the kids, parents and volunteers who have made this program, my dream come true.  I am honored to be the coach and founder and look forward to many more years of BUMPING IT UP!  (est. 2013).