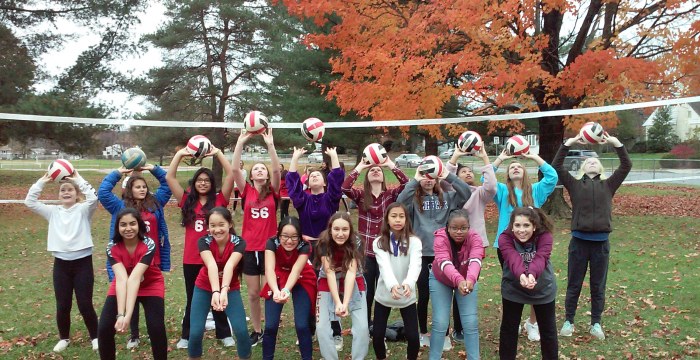 Year-round volleyball programs. All levels and ages 8-18 welcome.  Mostly girls, but boys are welcome! 
LTRC Volleyball is a wonderful introduction to the game of volleyball.  Kids will make friends, develop confidence, get some exercise and learn the basics of the game.  Level of play ranges, but generally beginners – intermediate.  Volleyball is one of the fastest growing youth sports in the area!  Join the fun.
Registration Page (Stone Alley):

Click here
GENERAL VOLLEYBALL CALENDAR (Subject to change) :
Winter:   Dec- March
Spring:    April – May
Summer: Tournaments (Perhaps a Beach Camp!)
Fall:         September – November
GENERAL DESCRIPTION OF SESSIONS:
Spring (registration opens in March, sessions begin in late March/early April)
Spring clinics. 1 hour classes for 8-10 weeks.  Usually between 4pm – 8:00pm at Ridgely Middle School gym or outdoor/by tennis courts.

All levels are welcome.  

After School Spring Ridgely Team:  Spring training will be held on various days after school on the grass near tennis courts.  Days TBD.
2022 Monday nights @ Bykota Center in Towson
Summer:
Single day Grass Tournaments – typically one per month.
All levels encouraged to participate.  Some instruction given as needed.
Field at Ridgely Middle.
Fall (registration opens in August, session begins September):
Fall Clinic.

1 hour classes for 8-10 weeks. Usually between 4pm – 8:00pm at Ridgely Middle School gym or outdoor/by tennis courts.

After-school Fall Ridgely Volleyball Season:  See RMS tab for details.
Fall LTRC Teen Volleyball League. Evenings/Indoor (** TBD – Depends on gym availability and health considerations)
Winter:
2022: Bykota Center Towson, Monday nights Elementary-Middle School. PROGRAM IS FULL, sorry!
Note, Winter sessions are TBD based on indoor availability and health restrictions.
Questions? Email Coach Jen: ltrcvolleyball@gmail.com
Top Ten Things We Love about Volleyball:
Team Sport – Make awesome friends and learn to work together!
Non-Contact – A NET is between you and the opponent = fewer injuries & fights!
No long distance running – Enough said.
Lifetime sport – Family reunions, beach, parks, gyms, backyard!
Exciting! – Fast paced, lots of points, lots of whistling.
A no "ball-hogs" sport – Equal opportunity! Players may only touch the ball 1 time in a row, and strive to have 3 different touches at every opportunity.
Easy to practice independently – Just need a ball…a wall….and/or a friend!
Builds communication – "I GOT IT!" "MINE!" "HELP!" – Talking to your team is a MUST in the sport.
Valuable life-lessons – Perseverance, Selflessness, Staying positive, Overcoming failures, Sportsmanship, Goal oriented.
Slapping hands – Arguably the highest frequency of high-fives & hand-slapping in any sport amongst team-mates! What's not to love about that!?
 WHO IS COACH JEN: 
Hi!  I am a mom, a wife, a neighbor, a tennis player, an oboe player, a piano teacher, an accountant, a volleyball player and coach…and as of 2022, a preschool teacher!  I grew up in West Philly, went to Davidson College in North Carolina, where I played D1 volleyball (setter), but was recruited for playing the oboe.  I believe sports should teach kids life-long skills of cooperation, staying positive, team-spirit and healthy exercise.  I believe every child should be given the opportunity to enjoy playing a team sport.  Thank you to the kids, parents and volunteers who have helped this program grow since 2013.  I am honored to be the coach and founder and look forward to many more years of BUMPING IT UP!